Is ROM UI Addon safe to use? Will I get banned from using this?

While every care has been taken in preparation for this ROM UI Addon, this is still 3rd Party Application and not officially allowed by the game. There are risk involved in using this ROM UI Addon. To make sure a smooth gaming experience, we suggest to not abuse it.

If you are afraid of getting banned while using it, then we suggest not use it.
Can I use UI on my android phone that is not rooted?
Yes, you can use ROM UI on android devices using VMOS PRO. VMOS PRO is an android emulator that have root environment. Use this as your medium in running ROM + ROM UI.

Download Links: VMOS Pro v1.6.3
Guide:



Note: Google Playstore and Root can be enabled via VM Settings -> check Google Services (Image)
I have RedFinger Cloud Emulator, can I use the addon from there?
Yes you can use Red Finger or any other cloud emulator without a problem. Please make sure to select Episode 6.0 option in the UI Injector and Inject on the login screen.
I downloaded the ROMUI on my phone and have seen Episode 6.0 or Episode 7.0 buttons. What are they for?
Both are similar interms of addon functionality, the only difference is the injection approach. Some phones does not support the old method of injection (which was being used since the last Episode 6.0 version of the game client).

We recommend you to try both options which works for you just make sure to follow the Instruction given on the UI Application. WE always prefer the Episode 6.0 option as this works for us.
Can we have 1 XKROM-UI Account and have multiple ID subscribed in it?
Yes, there are no limit to how many AccountID you can link/register into 1 single xkromui account.
I registered a wrong AccountID, can I change it?
Yes you can, go to our User Panel and login your account. Beside the AccountID there is Change ID button. Please take note of the cooldowns.
What is the Username and Password in "/login" command? And how to look for my Account ID?
The Username and Password as seen below the image is your XKROM Account. The red box (12345678) is your Account ID, this will be used for linking/registration of AccountID.

• We will never ask for your personal ROM Account.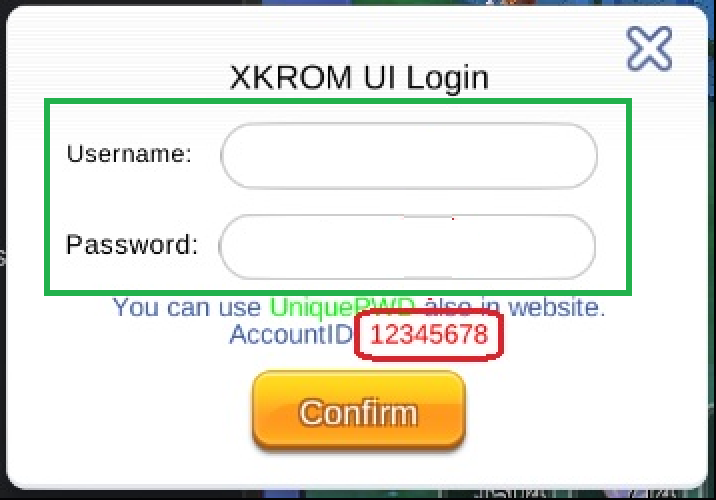 I accidentally type a wrong command in game chat, what should I do?
Hope and pray no one will report you. We always recommend to type your commands on a party chat (your own) or whisper chat (slave or nothing). See below image as an example.
Can I customize my addon so I don't have to type the same commands over and over?
Yes, with our Macro Tool, you can save as many commands as you like and are accessible anytime! See below image as an example.
Is this addon able to locate MVP/MINI instantly? Or Teleport to monster instantly?
No. As far as we know this kind of modication is server-sided. And if there will be any of this available, it will not be included on the UI.
Is UI able to support Map Hack where we can see all monsters in a certain map?
No. You cannot modify a server side feature. Please refer to FAQ#2.
Is Special MVPs like Garm/Randgrid/Wolf Grandma be included on MVP Boards or at least timers on them?
Unfortunately this is impossible because server never send any information about those special MVPs on to the client unless you are on the same map as the monster spawn.
I've seen you have `/spot` command. Can we use this to locate MVP/MINI spawn points?
No. This command is for normal monsters only.
Can we hunt MINI without Premium on our character?
Yes of course, but you will get a hard time looking for the mini.
Why is my character return to XX map whenever I go AFK? I always end up having full stamina every reset.
If you are planning to farm overnight and doesn't want your character to get interrupt, please disable Auto Quest module. Quests refreshed every reset of the game thus triggering the auto quest of our addon.